What is cultured meat?
Cultured meat refers to the concept of meat (which includes muscle cells, fat cells, connective tissue, blood, and other components) produced via cell culture, rather than from a whole slaughtered animal.
Making small amounts of animal muscle cells proliferated in culture has been demonstrated, but doing so affordably, alongside other cellular components of meat (such as fat) at a scale which would make cultured meat available to consumers has not yet been achieved.
Today, the production of cultured meat begins by taking a number of cells from an animal and proliferating them in a nutrient-rich culture medium, wherein they are capable of multiplying a number of times in vitro. Although a number of other intermediary steps would be necessary to produce them in large quantities, it is hoped that the resulting cultured animal cells can be harvested, seasoned, cooked, and consumed as meat products, such as sausage, hamburger, chicken nuggets, or perhaps even as a steak or chicken breast. Email science@new-harvest.org to learn more.
Where can I buy cultured foods?
Cultured meat, milk, and eggs are not yet commercially available.
Cellular agriculture is a very new field of science still in the early stages of development, and New Harvest's role is in the funding of open, academic research that is available for the benefit of entrepreneurs, students, prospective consumers and investors, and existing industries alike. Although it is not yet known for certain when and in what form the earliest cultured animal products will take shape, non-edible cultured materials are beginning to emerge at a faster pace. For example, cell cultured spider silk is now being used in a number of new consumer products.
When will cultured foods be commercially available?
Scientific progress is not easy, and as much as we would like it to, it often does not occur in a linear fashion. We do not have any formal predictions or promises regarding when products may become available commercially.
However, we are hopeful. Today there is more cellular agriculture research taking place than ever before, and we believe that as the field grows, the more quickly we can accelerate towards products on store shelves.
Will cellular agriculture products be safe?
Any new cellular agriculture food products put on the market will be subject to the same safety standards and regulations (under the FDA, for example, in the U.S.) as food products on the market today.
As far as we are aware, cellular agriculture food prototypes have not yet been subject to any regulatory testing.
Will cellular agriculture products be healthier than traditional farmed animal products?
Theoretically, cellular agriculture products could avoid foodborne illness attributable to fecal contamination and could minimize the risk of the development of epidemic zoonotic viruses like swine or avian flu. The products could also be designed to have better nutritional profiles than animal products from animals.
However, while these benefits are promising and hopeful, they do remain theoretical. Until there is more research conducted on what impacts of these products might be, the various ways in which they can be compared or contrasted to traditionally produced animal products has not yet been determined with measurable evidence.
Is cultured meat genetically modified?
Cultured meat will not necessarily be comprised of genetically modified cells. A cultured meat product could be comprised of the same unmodified cells as conventional meat: cells from muscle, fat, and connective tissue.
It is possible that genetic modification could assist in the advancement of cultured meat research and/or in the production of cultured meat. However, more research is required to determine in what ways genetic modification could be advantageous, and what the implications of these modifications might be.
Do animals have to be killed to make cultured foods?
Not necessarily. It is possible to obtain a starter culture for animal cells by taking a small biopsy from a live animal and then culturing the isolated cells. However, the culture medium used to provide nutrients for the cells is, at this time, derived from animals.
What is the source of nutrients used in cultured foods?
In biomedical research, most types of cell culture use media derived from animal blood. But researchers have now developed media from a variety of other sources, including plants and microorganisms. Formulating a cell culture growth media free of costly, unsustainable, and highly variable animal byproducts that is appropriate for cultured meat production remains a challenge, but it is an area in which New Harvest is actively conducting research. You can read about this, and other research efforts on our Project Profile pages.
How much will cultured food cost?
Theoretically, cultured foods could afford higher resource and labor efficiencies, which could translate into lower costs, if cultured meat were produced at scale with an affordable medium. However, it is unlikely that cultured products will soon compete with their 'conventional' counterparts in ordinary markets. There are technologies now found in virtually every household that originally cost too much for mass acceptance. Only after reductions in cost by several orders of magnitude were they mass-produced.
Why isn't the field of cellular agriculture well-funded?
Considering how impactful this work is, it is indeed surprising that there remains a lack of funding dedicated to research in this area. There are two things that contribute to this.
The first is that cellular agriculture lies at the intersection of medical research and food science.
Expertise in tissue engineering comes from medicine. Medical researchers will seek tissue engineering grants for medical applications - growing skin for burn victims, or growing organs for patients requiring transplants. But there isn't a portion of this grant that can be used for exploring food applications of their work. Grants can be fairly strict, and researchers risk losing their funding if they do not adhere to grant requirements.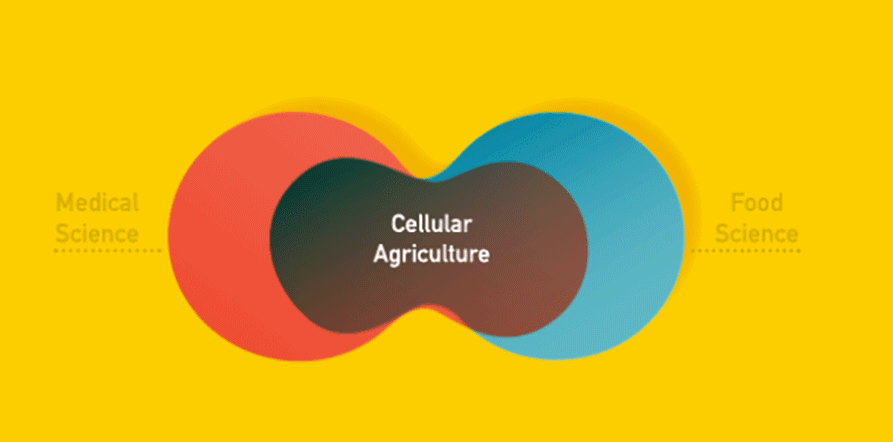 Then you might think, food science must be where this work takes place. The problem is that the average food science lab is not set up for mammalian cell culture. Today, tissue engineering expertise is not in food science, and therefore food science labs just aren't outfitted for this kind of work.
The second thing to consider is a catch-22 that exists for all novel research.
Most research is built incrementally on prior research. So your most recent experiment will inform your next experiment. And you will use the data from your previous experiment to seek funding for your next one.
But if you want to try something totally different, you're in a difficult place. You need data to apply for grant money, but you need money to get that initial data.
Many of the researchers who get in touch with us are tissue engineers excited about cellular agriculture but limited to doing small side experiments in their lab because they are unable to account for significant funds being directed to the work. These are the kinds of researchers that we fund.
New Harvest is addressing this funding gap by providing researchers with catalytic grants that allow them to gather initial data, reach a first milestone, or create a prototype that will allow them to more easily find funding from existing, established funders like the government or large research foundations.
Since 2008, New Harvest has committed over $2,388,250 in grants for 21 research projects across six countries. Email research@new-harvest.org to learn more.
Was this helpful?